ELVENKING ON EUROPEAN TOUR IN APRIL.
"2016 has been a difficult year for metalheads with many losses.
"Your Heroes Are Dead" is therefore now truer than ever and is hence the motto for the 2017 European Tour of ELVENKING from Italy and Finsterforst from Germany.
Accompanied by uprising German metal acts Firtan and Evertale they promise to make each night an unforgettable one!
The Power/Folk Metal legends Elvenking from Italy will headline these memorable nights with unforgettable performances.
All in all a brilliant package, which you shouldn't miss!"
Confirmed Dates till now:
Th 20. April 2017 – TBA
Fr 21. April 2017 – Lichtenfels, Ragnarök Festival DE
Sa 22. April 2017 – Oberhausen, Helvete. DE
Su 23. April 2017 – Eindhoven, Dynamo NL
Mo 24. April 2017 – Roeselare, De Verlichte Geest BE
Tu 25. April 2017 – Pratteln, Z7 CH
We 26. April 2017 – TBA
Th 27. April 2017 – TBA
Fr 28. April 2017 -TBA
Sa 29. April 2017 – Hamburg, MS Stubnitz DE
More dates will be added and announced soon.
We hope to see you there. May the winds blow fair at your back…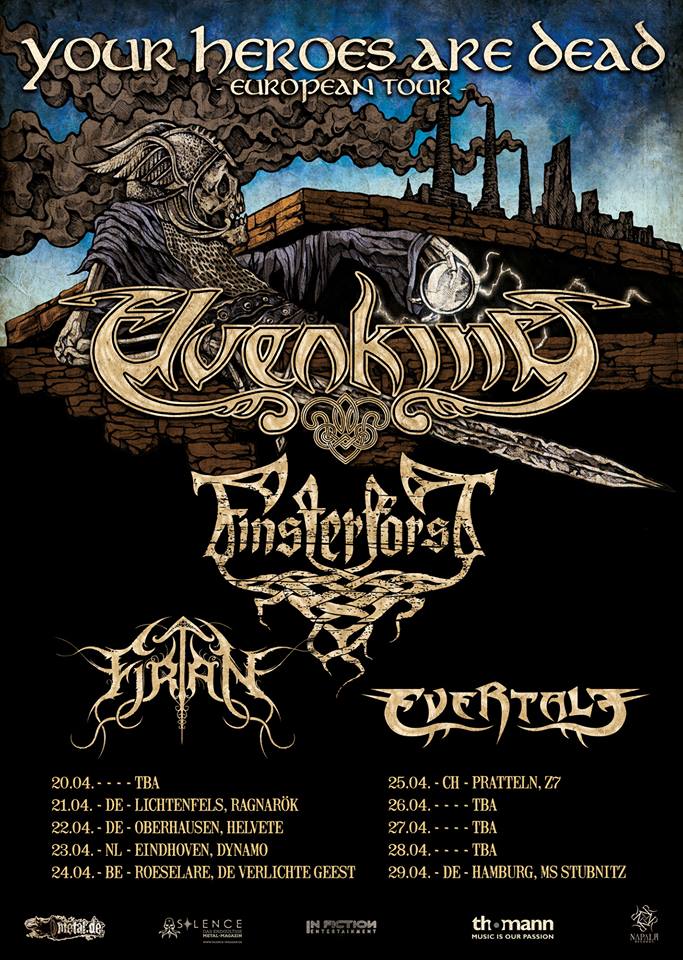 #elvenking #finsterforst #firtan #evertale #yourheroesaredead #tour