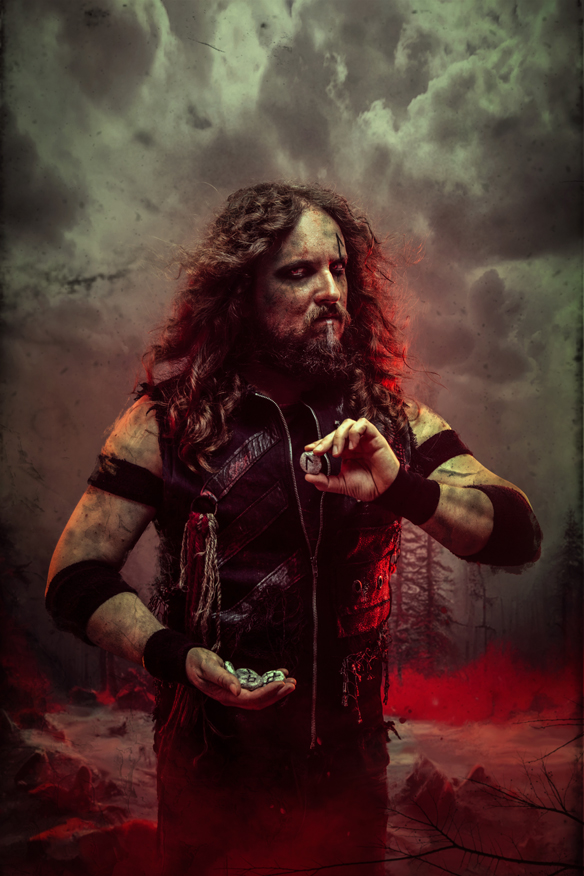 Portrait by Cunene
Links:
www.facebook.com/Fabiolethien
www.instagram.com/fabio_lethien

Day of birth?
May 26th 1984
When did you start playing?
I started with violin lessons when I was 7 and piano when I was 10.
Why did you start playing?
I saw a concert on TV and I was impressed!
Favourite bands?
Iron Maiden, Loreena McKennitt, Amorphis, Rhapsody, Queen, Nightwish…and many more.
Favourite musicians?
I don't' have favourite musicians, I just love the bands for their music.
First album bought?
Metallica-Metallica (The Black Album).
Favourite albums?
Nightwish (Dark passion play), Nickelback (Dark Horse) and many more.
First concert (as visitor)?
When I was a child I've been to many classical music concerts.
Best live show you've seen / would like to see?
Amon Amarth at Metalfest Plzeň (2019), Nightwish in Pordenone (2009), Nickelback in Munich (2010) and Aerosmith in Venice (2010).
Favourite EK songs?
Elvenlegions, Silverseal, The Scythe, A Riddle of Stars, Infection…and many more.
Favourite song to play live?
All the songs!
Which band would you like to open up for?
Amorphis!
Highlight of your career on/off stage?
Wacken 2016 and South America tour 2019.
Craziest situation on/off stage?
– A roadie at the first date of a tour said that violin on stage is not "rock 'n roll", so I made him change his mind.
– We were playing in Belgium and a boy was headbanging really hard during one of our fastest song. He hit a stage monitor whit his head. No words.
Most embarassing moment of your career?
Trying to do my best on the stage after a no sleeping/partying night.
Favourite drink / smoke?
Good wine and beer/ I don't smoke!
Favourite movies / actors?
The lord of the rings trilogy, Indiana Jones.
Favourite TV series?
Stranger Things, Wednesday, Game of Thrones, Breaking Bad.
Favourite books?
"Lord of the rings" J.R.R. Tolkien.
Favourite computer/console games?
Metal Slug,  Mario Kart.
What do you like to do on your freetime?
I love mountains (climbing and trekking) and running in the fields. I love cooking and travelling.
Describe yourself with 3 words:
Patient, sleepless, enthusiast.
Equipment you use?
Custom Viper Wood Violin, Line6 DL4, Yamaha SV-200 Violin, Boss tuner TU-3, Strymon Bluesky reverb, Radial d.i. box, D'Addario Strings & Planet Waves cables.