Finally our latest album THE PAGAN MANIFESTO has been released in two super limited DOUBLE VINYL EDITIONS (WHITE and DARK GREEN – 250 units each)!
Go grab 'em at our Elvenshop!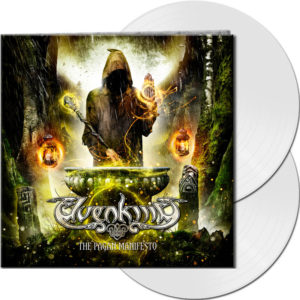 With "The Pagan Manifesto" Italian folk/power metal masters ELVENKING present a new album that not only shows the band matured and improved, reaching a whole new creative level; it definitely stands as a "manifesto", defining what ELVENKING is all about. Even though they always delivered quality and amazed a loyal and dedicated worldwide fanbase with ease time after time, "The Pagan Manifesto" now displays the true potential of this exceptional outfit. Stylistically it combines the best of the band's earlier days with the maturity & improved songwriting and production skills. Tracks such as the 13-minute long epic "King Of The Elves" (feat. Amanda Somerville) are proof that ELVENKING are the leaders of their genre!
Tracklist:
Vinyl A
01. The Manifesto
02. King Of The Elves
Vinyl B
03. Elvenlegions
04. The Druid Ritual Of Oak
05. Moonbeam Stone Circle
06. The Solitaire
Vinyl C
07. Towards The Shores
08. Pagan Revolution
09. Grandier's Funeral Pyre
10. Twilight Of Magic
Vinyl D
11. Black Roses For The Wicked One
12. Witches Gather
13. Amethyst
14. Cyfarwydd